Verge of Corruption
Love's Warrior Book 1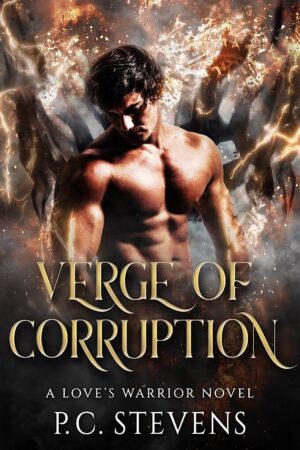 July 20, 2020
ISBN: 978-1735136806
Tris, a Light-blooded warrior on the run, and Zestine, a fearsome cat shifter, come together as spies in this deliciously dark, sinfully sexy tale of war and treachery, love and devotion.
Some of Tris's kind have callously shunned their roots by trading their Light for the Darkness. By order of the king and queen, he and Zestine are to investigate the unprecedented metamorphosis. To the Dark Dimension they venture, straight into the heart of enemy territory. Their facade requires Tris to masquerade as one of his Dark kin while he and Zestine pose as lovers.
Quickly do they learn, after being welcomed into their foes' dismal abode, how very justifiable their fear is. Tempting death becomes a means to survive. By surrounding himself in Darkness, Tris's Light weakens. Though Zestine's a top predator and efficient killer, it's not long before she finds herself powerless and close to breaking.
Yet they're not without a glimmer of hope, as even love can be found in the Darkness. And in their world, love is much more than an emotion. It's a weapon the enemy won't see coming.
Other Books in this Series